Sarah Burgess Yoga offers a multitude of classes to support your parenting journey right from the very beginning, with weekly pregnancy classes and postnatal yoga courses to get you started.
Would you like to feel more at ease in your body and find some time to unwind? Parenting can be difficult both physically and emotionally. Finding the space to relax and look after your body is key to giving your children the very best you.
Sarah has been teaching yoga for over 15 years. She loves helping people feel better in their bodies and minds. Her calm and patient approach helps people find respite from the stress of everyday living. If you've been suffering from aches and pains, stress, anxiety or sleepless nights, Sarah can help with all of this and more.
In-Person and online yoga classes
Sarah teaches a mix of in-person and live-streamed online yoga classes at various locations across East London, including Docklands, Bethnal Green, London Fields, and East Ham. She offers a range of styles, including more dynamic vinyasa flow and ashtanga, through to gentler hatha classes suitable for beginners, as well as pregnancy and postnatal yoga.
Sarah is also available to teach private one to one yoga or small group classes at your home, place of work, or via Zoom, get in touch to work out the perfect session to suit your needs.
Pregnancy Yoga
Suitable for 14 weeks – 42 weeks
Pregnancy Yoga is a great way to connect with your body and the baby growing inside of you. The postures practiced prenatally can help you both during birth and to assist your body to heal once your baby has arrived.
Where: The Canvas, 27 Old Ford Road, Bethnal Green, E2 9PJ
Saturdays 10:30 – 11:30
Booking via: https://www.stmargaretshouse.org.uk/wellbeing-classes
"Pregnancy Yoga with Sarah has got me through my pregnancy. I look forward to every session and leave each one feeling relaxed and uplifted, and part of a community. The class feels like such a support system – so much more so than I could have imagined! Doing the weekly class has become part of my routine and complete boost to my week. I honestly feel more ready for birth, in mind and body because of these classes, and hope to use many of the positions during labour. So thank you! Worth every second and every penny!"

-Maddie
Postnatal Yoga – FREE Parent & Baby Yoga
Suitable for mums from 6 weeks postnatal up until babies start crawling
Where: Applecart Arts, 207 Plashet Grove, London, E6 1BX
Tuesdays 2:15 – 3:15
Advance booking required
Postnatal Yoga for Mums & Babies
Where: FieldWorks Dance, 274 Richmond Road, London E8 3QW
Thursdays 10:15 – 11:15 am
Advance booking required
Cost: £68.00 classes run as blocks of 5 – see website for next dates
Email hello@sarahburgessyoga.com to book
Yoga Classes for everyone
Once you feel comfortable being away from your little one, Sarah teaches classes for all different levels and even has some free community classes in the Isle of Dogs and East Ham. Don't worry if you've never done any yoga before, she can guide you gently into your practice and ensure that you adapt your practice safely in your postnatal period.
Island House Community Centre E14
FREE Community Yoga class (open level, suitable for beginners)
Where: Roserton St, Isle of Dogs, London, E14 3PG
Mondays 6:30 – 7:30 pm
Tuesdays 6 – 7 pm (women only)
Booking via: admin@island-house.org or T: 020 7531 0310
Applecart Arts, East Ham
FREE Parent & Adult Yoga -includes creative wellbeing activities provided for any accompanying primary school children.
Where: The Passmore Edwards Library, 207 Plashet Grove, London E6 1BX
Tuesdays 3:45 – 4:45 pm
Booking via: https://applecartarts.com or Tel: 0203 475 4280
Docklands Sailing and Watersports Centre E14
Vinyasa Yoga (all levels) In-person & live online
Where: DSWC, 235A, Westferry Rd, Docklands, London E14 3QS
Sundays 11 am – 12:30 pm
Cost: £12.00 online, £14.00 in-person
Advance booking is required. Email hello@sarahburgessyoga.com to book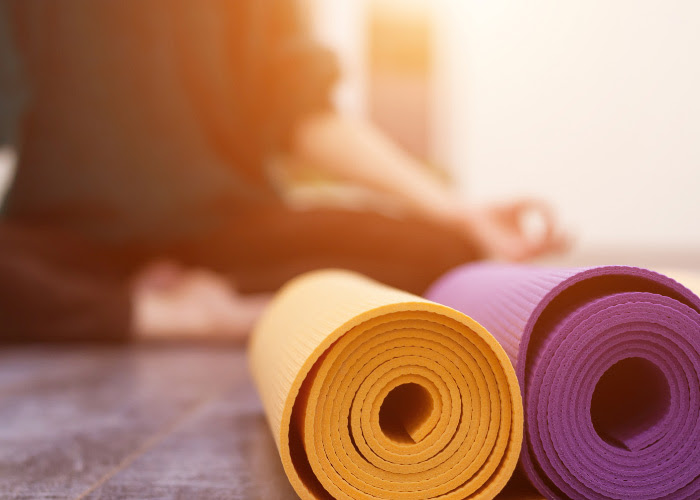 Workshops
In addition to her weekly classes, Sarah offers regular gentle movement, yin and restorative yoga workshops, that are focused on helping people to really slow down, deeply rest and renew – something that is needed now more than ever, especially for parents. Check out her website for the most up to date listings – www.sarahburgessyoga.com/schedule
Looking for a great place to take your baby? Check out our round-ups for weekday fun for babies in Tower Hamlets and Hackney.